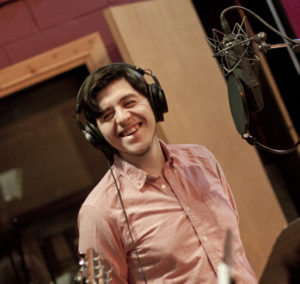 ---
Connect with Sam Valladares:
Sam's story:
Owning and operating a website is one of the last things Sam thought he'd ever be doing in his life. In fact, when the 8th grade career aptitude test audaciously teased, "Web Master", he thought 'Bah humbug!': surely there had been some sort of mistake, as it had also suggested considering being a "Nuclear Scientist." Well as it turns out, after the passing of a some years, he's inched toward both of those predictions.
Sam Valladares' deepest passion is teaching others about the important things in life, and helping them realize their power to improve themselves and those around them and around the world. For him, the most important and influential power in his life is God, so he dedicates his time relaying Biblical understanding to anyone willing to hear.
This passions' course has translated into writing, which has the potential of reaching hungering hearts all across the globe. Now, the seeking can know too that they've been sought after by God, and can learn and apply something useful in their life, and the established believer can be further taught to enhance their role in the body of Christ. This mission is an urgent one, and when Sam realized he needed a platform on which to base his writing, he decided to throw out the traditional model of "climbing the ladder" of authorship or seminary and instead shoot directly for the stars by building Words To The Power.
Sam Valladares came from humble beginnings. Growing up in the Pacific Northwest, he focused on education, sports, and helping his dad wash windows and maintain an apartment community. Sam participated in his middle school's honors program and was then accepted into the International Baccalaureate Program.
After graduating with the coveted IBO certificate, Sam served in the U.S. Air Force as an aircraft technician for 6 years, and was trained as a specialist. He earned an Associates of Science in Aviation Maintenance while in service. Upon completion of his commitment, he became a missionary in a 6 month outreach program – which taught him how to love people like God loves them.
Sam's overall desire to help others has taken many different shapes: he's amassed passions in art, music (see samples below), writing, and science – which are all mediums of conveying ideas and truths. He's currently studying Aerospace Engineering, and working in music. Sometimes, he can even be found reading at poetry nights in niche coffee shops. For Sam, continuing to learn about life through reading and meaningful discussion with virtuous people is a must.
Sam Valladares' music:
Sam's YouTube channel:
Sam's Twitter feed:
© 2015-2018 Sam Valladares. All rights reserved.